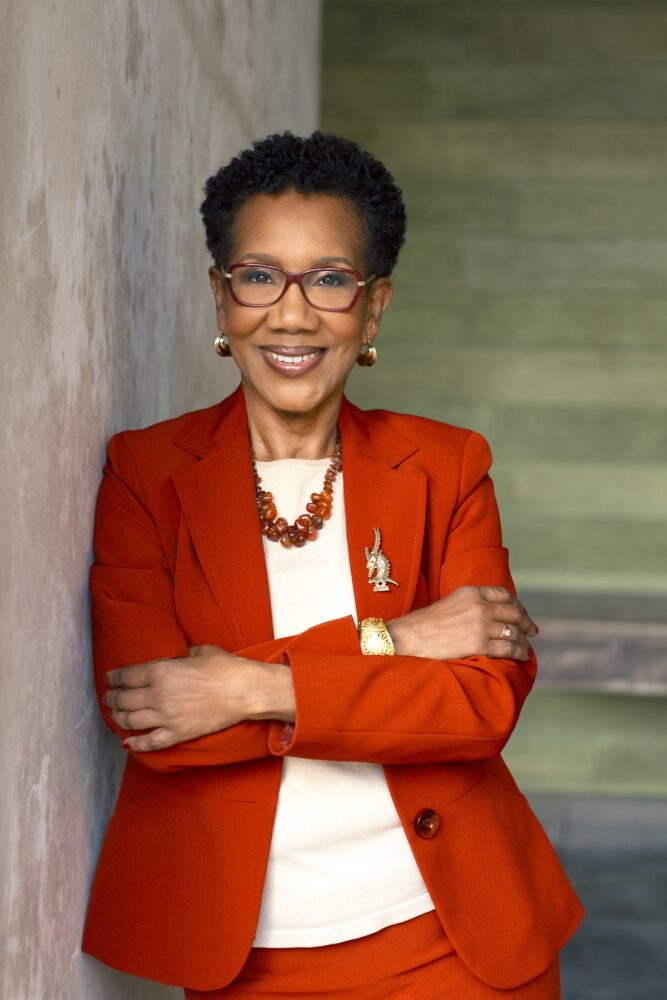 Joyce Marie Jackson
Chair & James J. Parsons Endowed Professor

Education
Ph.D. Indiana University, Bloomington
Further Study, Atlanta University
M.M. Louisiana State University
B.M. Louisiana State University
Selected Publications
2003. Life in the Village: A Cultural Memory of the Fazendeville Community. Washington D.C. and New Orleans: U. S. Dept. of the Interior, National Historical Park.
2020. "Continuity of Consciousness: Spirituals and Gospel," in Rivers of Rhythm: African Americans and the Making of American Music. p. 15-30. Nashville: National Museum of African American Music.
2019. "Blues & Blacks in the Red Stick: Origins, Evolution, and Current Status" Louisiana Folklife Program. https://www.louisianafolklife.org/LT/Articles_Essays/brblues1.html#
2018. "New Orleans Second Line Aesthetics and Identity," in Freedom's Dance: Social, Aid and Pleasure Clubs in New Orleans, by Eric Waters and Karan Celestan, p. 3-21. Baton Rouge: Louisiana State University Press.
2015. "Rockin' for a Risen Savior: Bakongo and Christian Iconicity in the Louisiana Easter Rock Ritual," in Esotericism in African American Religious Experience: "There is a Mystery..." Ed. by Stephen Finley, Margarita Guillory and Hugh Page, Jr., p. 295-331. The Netherlands: Brill Academic Publishers.
2014. "Quartets: Jubilee to Gospel," in African American Music in Cultural Perspective. Ed. by Portia Maultsby and Mellonee Burnim, p. 75-96. New York: Routledge Press.
2014. "Louisiana Cultures: A Creole Mosaic," in The Pelican State. Ed. by Wayne Parent and Ryan Ortega, p. 36-71. Baton Rouge: LSU Press.
2012. "African American Sacred and Secular Identities in Mississippi's Piney Woods," in Ethnic Heritage in Mississippi: The Twentieth Century. Ed. by Shana Walton, p.74-97. Jackson: University of Mississippi Press
2011. "The Great River Road Corridor: Cuisines, Cultures and Communities from the Atlantic World to the Plantation Belt," Louisiana Folklore Miscellany 21, p. 1-5.
2011. "Beyond Urban Borders: Unveiling New Discourses on the Rural Jazz Narrative in the River Road Region," Louisiana Folklore Miscellany 21, p. 75-89.
2010. "The Gospel Caravan ," in Ain't Nothing Like the Real Thing: How the Apollo Theater Shaped American Entertainment. Ed. by Richard Carlin and Kinshasha Holman Conwill, p. 156-163. Washington, D.C.: Smithsonian Institution Books.
2009. "Easter Rock," Mardi Gras Indians," "Quartets, African American," (3 essays) in The New Encyclopedia of Southern Culture (Folklore Volume). Ed. by Glen Hinson and William Ferris. Chapel Hill: University of North Carolina Press.
2007. "The Paschall Brothers: On the Right Road Now," a thirty–two page liner note booklet plus track notes, citations and a bibliography accompanying the CD. Smithsonian Folkways Recordings CD 40176.
2006. "Declaration of Taking Twice: The Fazendeville Community of the Lower Ninth Ward," American Anthropologist 108, No. 4, (December): 765-780.
2006. "Rockin' and Rushin' for Christ: Hidden Transcripts in Diasporic Ritual Performance," in Caribbean and Southern: Transnational Perspectives on the U.S. South. Southern Anthropological Proceedings, Vol. 38, ed. by Helen Regis, pp. 89-123. Athens: University of Georgia Press.
2005. "Working Both Sides of the Fence: African American Sacred Quartets Enter Realm of Popular Culture," in Bridging Southern Cultures: An Interdisciplinary Approach. Ed. by John Lowe, pp. 154-171. Baton Rouge: Louisiana State University Press.
2005. and Fehintola Mosadomi, "Cultural Continuity: Masking Traditions of the Black Mardi Gras Indians and the Yoruba Egungun," in Orisa: Yoruba Gods and Spiritual Identity. Ed. by Toyin Falola and Ann Genova. Trenton, NJ: African World Press.
1995. "The Changing Nature of Gospel Music: A Southern Case Study," The African American Review 29, No. 2, p. 185-200.
1993. "Mahalia Jackson" (biographical essay), in Black Women in America: An Historical Encyclopedia. Ed. by Darlene Clark Hine, pp. 620-623. New York: Carlton Publishing Co.
Courses Taught
Urban Ethnography: New Orleans
African American Folklore
Folklore of the African Diaspora
Rituals: Theory, Context and Performance
Black Music in America
Introduction to Folklore