Archaeology and Community Outreach in Peru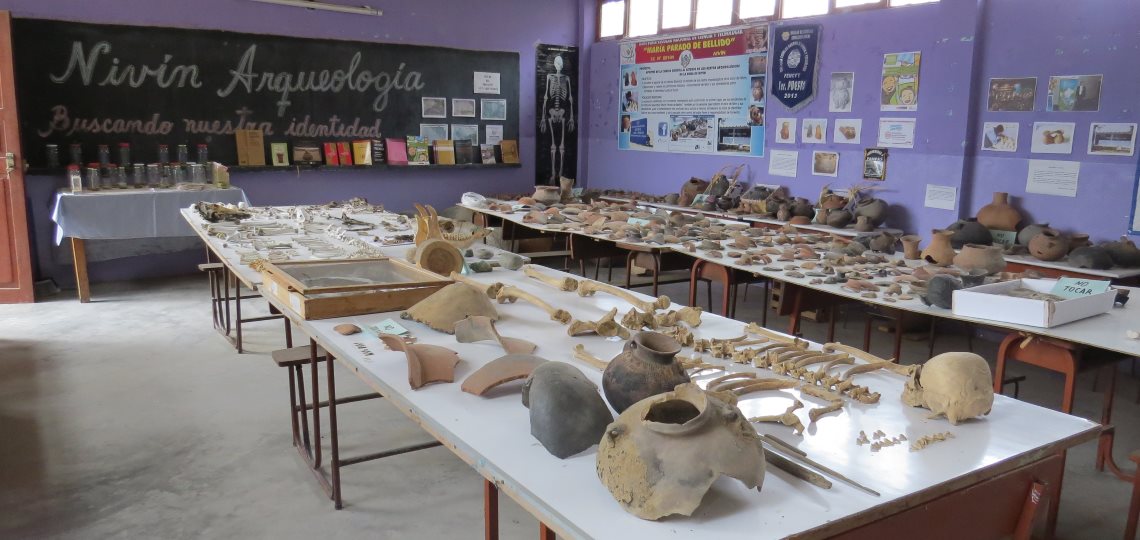 Since 2016, doctoral student Elizabeth Cruzado has been leading a team of American and Peruvian archaeologists to explore the ancient occupation of the Nivín region in the middle Casma Valley, north-central coast of Peru. The field project, which is part of her dissertation under the supervision of Dr. David Chicoine, has so far benefited from the generous financial support of the Curtiss T. & Mary G. Brennan Foundation, as well as from LSU's Department of Geography & Anthropology, in particular the Robert C. West Graduate Student Research Grant and Graduate Research Material Awards. Cruzado's initiative involves mapping and excavations at several ancient sites around Nivín as well as community outreach, educational programs, museum conservation and capacity building.
In 2016, Cruzado started a pedestrian survey of Nivín, documenting several sites including Pan de Azúcar, El Monumento, Huaraspampa, and Cerro Pacae. In 2017, she undertook the first scientific excavations Pan de Azúcar de Nivín. Field results indicate the existence of a large administrative center occupied between A.D. 1000 and 1100.
In 2018, Cruzado's team mapped the site of El Monumento to determine the extent of architectural features and site boundaries. Results indicate the construction and maintenance of a fortified elite center with an occupation going back to at least 600 B.C. Ongoing analyses of archaeological materials, meanwhile, bring insights into the functions of different habitation and production areas, as well as inform on the nature and extent of artistic influences in the region.
Beyond the field, the Nivín research maintains close collaborative ties with local school teachers and students. Co-creative efforts have centered on a little archaeology museum developed at the María Parado de Bellido School. Cruzado's crew, in collaboration with Professor Gustavo Valencia, have helped in the cleaning, recording and conservation of human skeletal remains, ceramics, and other artifacts. School children also tend an organic vegetable patch and fruit gardens. Dominique Giosa, a graduate from LSU's Anthropology and Fine Arts programs, taught lessons about pottery making and supervised the painting of a mural.
In July 2018, collaborative efforts paid off with the official signing of a Strategic Plan for the Preservation of Nivín's Cultural Heritage. This event was celebrated at the Municipality of Casma with the participation of local authorities and the public. About 50 people came to this unique event, including the local press. A formal agreement is now in place to protect and preserve the cultural heritage in Nivín for the next five years!
Cruzado is returning to the field in June and July 2019 to reopen excavations and continue her groundbreaking research. She is currently seeking dynamic and dedicate volunteers interested in gaining experience in field archaeology, museology, and cultural heritage. Field operations will focus on the mapping and excavation of additional ruins, while laboratory efforts will further document the material culture, foodways and biohistories of the ancient people of Nivín. Anyone interested in this unique opportunity should contact Elizabeth Cruzado (ecruza1@lsu.edu) and consider joining her wonderful project!