LSU Symphonic Winds To Perform At Regional Conference
June 26, 2023
BATON ROUGE, La. – The LSU Symphonic Winds has been chosen as one of seven collegiate ensembles to perform at the College Band Directors National Association (CBDNA) Southern Division Conference, to be hosted at the University of Memphis in February 2024.
Concert bands from across the 11-state division were selected through a competitive blind audition process involving adjudicators from across the United States. Only five states from the division – Louisiana, Alabama, Tennessee, South Carolina, and West Virginia ­– had their ensembles selected to perform.
"I am incredibly excited for our students and the opportunity to perform on such a prestigious stage surrounded by others who love music deeply," said Simon Holoweiko, Associate Director of Bands. "We are so grateful for the significant contributions from so many dedicated students over the years who have all played a role in making this possible."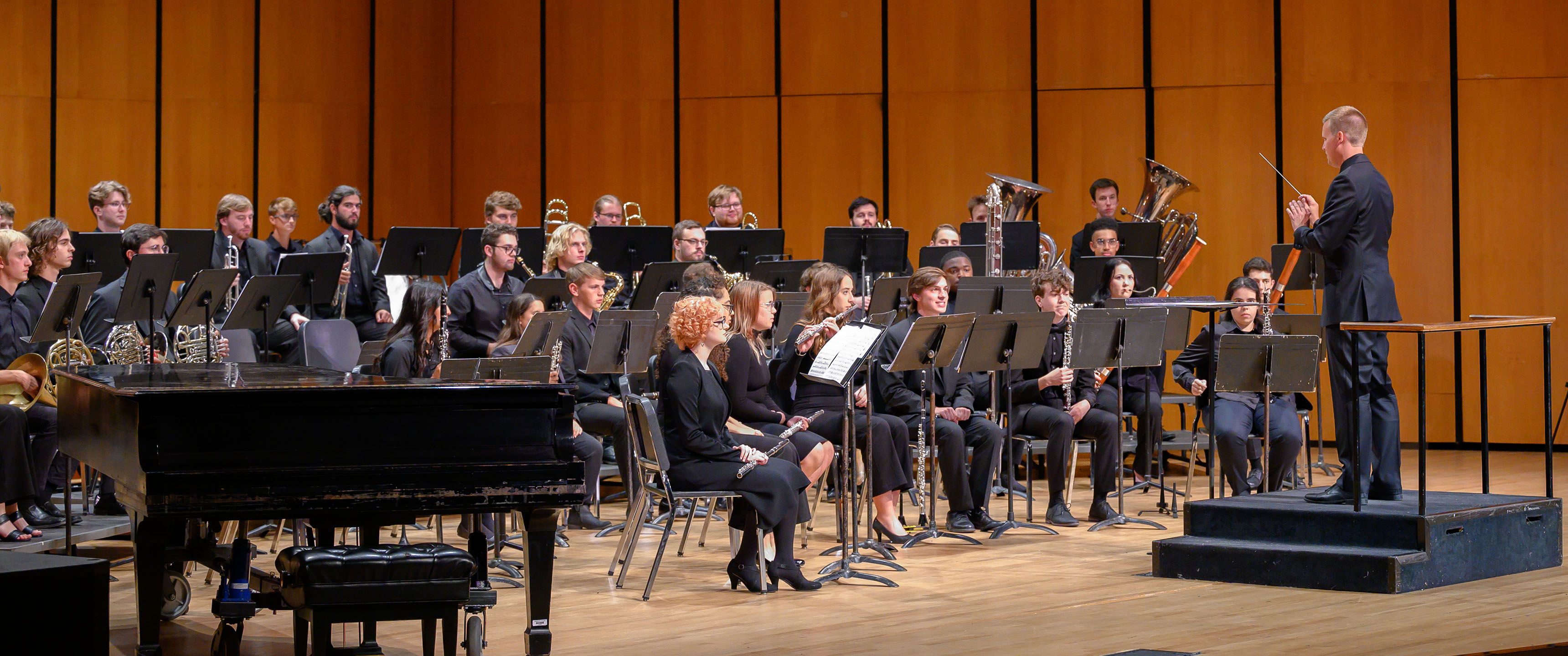 The selection of the LSU Symphonic Winds follows several appearances by LSU School of Music ensembles at events hosted by professional music organizations. Highlights include the LSU Wind Ensemble's world premiere performance of Michael Daugherty's Songs From A Silent Land at the 2019 CBDNA National Convention, and the LSU A Cappella Choir's performance of Craig Hella Johnson's Considering Matthew Shepard at the 2017 National Collegiate Choral Organization Conference.
"This invitation acknowledges the skill and commitment of School of Music student musicians and faculty," said James Byo, Director of the LSU School of Music. "To perform at a conference of the major U.S. professional organization for band directors is a singular accomplishment for the Symphonic Winds, and I could not be happier for our students."
The LSU Symphonic Winds is an ensemble comprised of approximately 55 undergraduate and graduate music majors in the School of Music, as well as qualified musicians from other academic disciplines. The group performs a wide array of repertoire, including original wind band works, chamber works, transcriptions, and experimental "new music" compositions. The Symphonic Winds also hold a proud tradition of collaboration with other art forms, such as the LSU School of Theatre's Dance & Physical Theatre area.
More information is available at cbdna.org, or at lsu.edu/cmda/bands/