Carson King-Fournier Joins LSU Music
May 31, 2023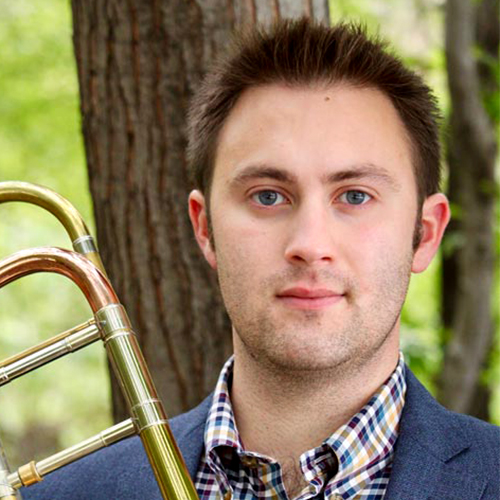 We are pleased to announce that Carson King-Fournier will join the faculty of the LSU School of Music as Visiting Assistant Professor of Trombone, beginning in August 2023!
King-Fournier is a prominent freelance musician and educator previously based in St. Paul, Minnesota. He served on the faculty at the College of Saint Benedict & Saint John's University (CSBSJU), Augsburg University, Carleton College, and Macalester College. Carson holds a Bachelor of Music Degree from the Juilliard School, and a Master of Music Degree from Northwestern University. His principal teachers include Joseph Alessi, Michael Mulcahy, R. Douglas Wright, Kari Sundstrom, and Dr. John Tranter.
Along with teaching at the college level, Carson maintains an active private studio teaching trombone, bass trombone, euphonium, and tuba. His students have gone on to study music at various institutions including Juilliard Pre-College, Northwestern University, Augustana College, University of Colorado at Boulder, Southern Methodist University, University of Minnesota, and the University of Wisconsin-Eau Claire.
Carson has performed with a variety of ensembles including the Chicago Symphony Orchestra, Minnesota Orchestra, Milwaukee Symphony Orchestra, Chautauqua Symphony Orchestra, and the United States Military Academy Band at West Point. He regularly performs in a multitude of styles, and on alto, tenor, and bass trombones, euphonium, bass trumpet, and sackbut. Carson can be heard on both tenor and bass trombone on four of Minnesota Orchestra's recent recordings, including Mahler's Symphony No. 6, 7, 8, and 10.