NASA's Keith Comeaux on engineering the Mars 2020 Rover mission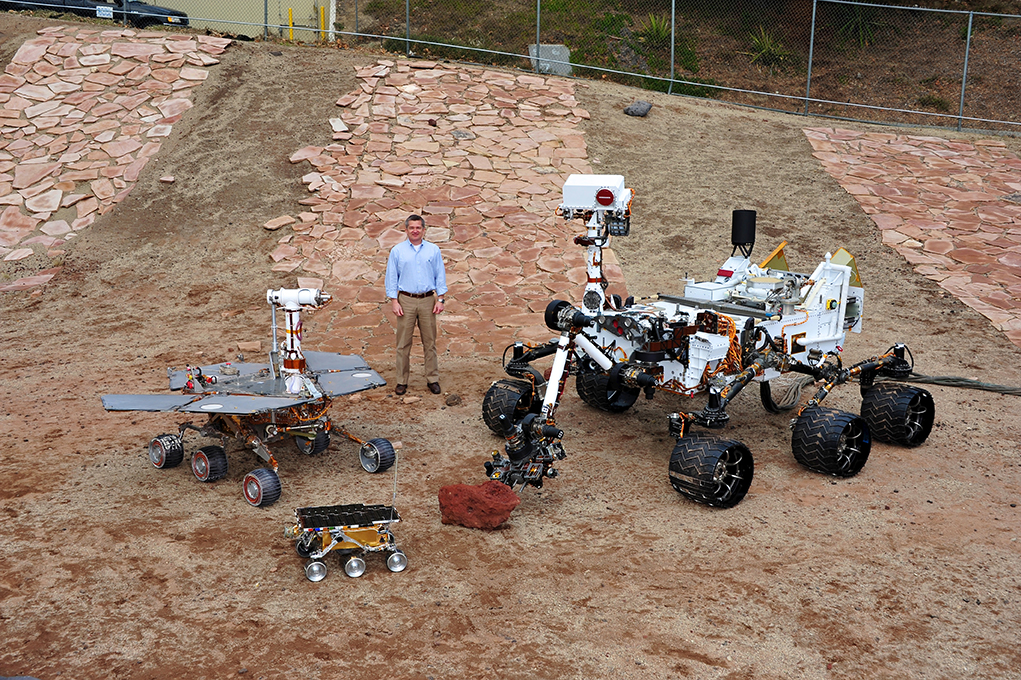 What's it like to launch an SUV-sized rover to another planet and ensure that, on arrival, the rover will be able to complete scientific missions AND be controlled from Earth? This is exactly what Dr. Keith Comeaux, Deputy Chief Engineer at NASA Jet Propulsion Laboratory, and his team are tackling for the Mars 2020 Mission. In this episode, Dr. Comeaux leads us through the complexities involved in designing Mars rovers his career path from LSU to NASA, and the potential prospects of discovery for the Mars 2020 Mission. (Transcript below.)
Listen to the full episode below, and subscribe to LSU Experimental on Apple Podcasts, Google Play, Stitcher, Spotify, TuneIn or anywhere you get your podcasts.
Additional resources
LSU Experimental is a podcast series that shares the research and the "behind the scenes" stories of LSU faculty, student, and alumni investigators across the disciplines. Listen and learn about the exciting topics of study and the individuals posing the questions. Each episode is recorded and produced in CxC Studio 151 on the campus of Louisiana State University, and is supported by LSU Communication across the Curriculum and LSU College of Science. LSU Experimental is hosted by Dr. Becky Carmichael and edited by Kyle Sirovy.
---
[0:01] This is LSU Experimental, where we explore exciting research occurring at Louisiana State University and learn about the individuals causing the questions. I'm Becky Carmichael. Picture an object the size of an SUV. Now add really expensive and delicate instruments to this object. Now launch that beast to Mars to carry out scientific missions without damaging anything on the craft. And by the way, you'll still need to control that beast from Earth. seems impossible, right? But this is exactly what the engineers at NASA have done with the Mars rovers. LSU alumni Dr. Keith Comeaux, Deputy Chief Engineer at NASA for Mars 2020 mission, joins us to describe his experience on the different NASA rover teams, the complexities of building sending a rover to Mars, and the upcoming Mars 2020 mission.

Keith Comeaux
[1:07] My name is Keith Comeaux. I'm a native of Baton Rouge and a 1989 graduate of the physics and mechanical and engineering departments at LSU. I'm currently the deputy chief engineer for NASA's Mars 2020 rover mission at the Jet Propulsion Laboratory. Our next flagship mission to Mars builds on the success of the Curiosity rover that landed in 2012. And it's still hard at work on the surface of Mars. The objectives of the 2020 rover include continuing the exploration of Martian geology, climate and past suitability for life. It also has new capabilities to detect bio signatures fossils of microbial life, if you will, should life have existed billions of years ago, when Mars was a warm, wet, habitable planet. The centerpiece of the Mars 2020 rover is the sample cash system, which will be able to collect and preserve carefully selected rock samples for a future of mission to pick up in return to Earth. My role on this mission includes ensuring that our test campaign is sufficiently comprehensive to maximize our chance for success on Mars. This includes sorting out anomalies that we encounter, making the best use of the limited time we have before launch, as well as mentoring the next generation of Mars explorers. My education and experience in aerospace engineering helped me achieve what I've accomplished in my career so far. But what inspires me most today is the opportunity to work on a mission, which is laying the groundwork for the potential discovery of life beyond Earth. This promises to be one of the most profound discoveries of all human history, and I feel privileged to contribute a small part to that.

Becky Carmichael
[2:56] Dr. Keith Comeaux, I'm so excited that you were able to join us today to sit down and talk a little bit about who you are and your work. So thanks for finding some time today to to sit down with us.

Keith Comeaux
[3:09] Oh, you're very welcome. Happy to be here.

Becky Carmichael
[3:12] Awesome. One of the things I'd like to do first is to give our listeners a little bit of a sense of who you are and your background. So could you share a little bit of that with us?

Keith Comeaux
[3:24] Sure. Okay, um, I am a native of Baton Rouge. My name is Keith Comeaux obviously, and went to LSU. I majored in physics and mechanical engineering, graduated in 1989. And came out to California for graduate school and found myself working in the aerospace industry. Now, I'm working at the NASA Jet Propulsion Laboratory on the Mars rovers. And so we're building a new Mars rover now, which I'm very excited about that launches next year. And we will ultimately be searching for the possible existence of past life on Mars. And that's really exciting.

Becky Carmichael
[4:09] That is very exciting. So what drew you into this field? Did you have a particular inspiration.

Keith Comeaux
[4:16] So from as early as I can remember, I was always kind of fascinated with, you know, the latter part Apollo missions, I can recall as a kid, following along, and then later, in my childhood, I got very interested in airplanes. And I built airplane models. And I always was interested in flight and space. And by the time I was in high school, I recognized that had a talent for math and science. And so I kind of put my interests together with my skills in aerospace engineering seemed to be the logical choice for my future. So when I went to LSU physics and mechanical engineering seemed to be the best suited for getting me on the right track for pursuing that interest.

Becky Carmichael
[5:08] You had me were there when you were talking about you were building models, and you were interested in flight. And I'm just thinking about, you know, how many of us when we are kids, those are some of those things that draw us in? And just having that connection? Did you? Did you do any flying when you were growing up? Or did you have any pilots in the family that you got to fly with?

Keith Comeaux
[5:36] No, actually, no, no pilots in the family. In fact, I didn't, I didn't have my first airplane ride until I was almost a senior in high school. So it took a while for me to get there. But by the time I did, I knew, you know, in fact, I didn't mention it earlier. But I did want to, in fact, be a pilot, wanted to fly for the Air Force or the Navy. But unfortunately, my vision wasn't quite up to par so that that path was not destined for me.

Becky Carmichael
[6:11] That was one of the things, one of the first things I thought I wanted to do was to be a pilot and the same kind of thing. It's like nope, sight, one of the things that's going to cut you out. So I'm like, okay, we're gonna figure out something else, then.

Keith Comeaux
[6:24] That's right. I went as far as joining Air Force ROTC, at LSU, and spent a summer in field training. And but when I went to get my Air Force physical, that's when I learned my vision wasn't up to par.

Becky Carmichael
[6:40] So you are the deputy chief engineer at NASA for the Mars 2020 mission? Would you walk our listeners through what a typical day is like for someone in this position?

Keith Comeaux
[6:52] Oh, that's an interesting question. There is no typical day on a Mars mission to Mars rover mission in particular. We go through a life cycle. You know, when we first conceive of these missions, we try to imagine what kind of objectives that we want to achieve and rewrite requirements for those objectives. And then we design our rover to achieve those requirements. So the early part of the mission is a lot of detailed design and analysis to ensure that we can actually accomplish the objectives that we set out for ourselves. But later in the project, which is where we are today. You know, we've built a lot of the hardware, it's being delivered to our clean room where we're putting our rover together. And we're doing a lot of testing, we've got test beds, basically stunt doubles, where we exercise all the capabilities of the rover. And then we also test the actual flight hardware in the clean room to ensure that all of the requirements can be met. And every day is a little bit different. We encounter anomalies, we have to deal with hardware, scheduled delays. And so every day is very unique and interesting, and presents a challenge for us to get to the launchpad to launch tomorrow's next year.

Becky Carmichael
[8:20] Soon, do you have a particular day when you will be planning to have that launch? next year?

Keith Comeaux
[8:28] Yes, our launch period lasts for about three weeks. It opens in July of 2020, July 17 of 2020. And we have about three weeks to get it off the ground to meet Mars at the right time.

Becky Carmichael
[8:46] So what are some things that actually affect that launch date? Is it like a time of year? Is it a particular season?

Keith Comeaux
[8:55] Well, it's literally the planets have to line up. For us to launch, we have to bring it's like a quarterback tossing a football to a receiver and you don't throw that football where the receiver is at the moment that you throw at you, you give them a lead, you have to throw it to where the receiver is going to be, hopefully in the touchdown zone. But so we have to do the same thing. And our lunch vehicles are only capable of throwing the ball so far. So we've got to make sure that when Mars and Earth are going around the sun that we do it at a point where it requires the least amount of energy to get to Mars.

Becky Carmichael
[9:37] And so one of the things that we've had been thinking about before getting to interview with you was the fact that there are so many different low orbit satellites going around the Earth, does that also fall kind of in, in some of the calculations, it was the timing of when you can launch? Is that a problem at all.

Keith Comeaux
[10:01] You're right, we have a number of orbiting satellites around Mars, and they all have different capabilities with regard to taking pictures as well as to provide a communications link between our rover and earth. And so what we try to do is adjust the orbits of those vehicles so that they're all going to be over our landing point, our landing zone at precisely the time that we expect to arrive there. So we will have multiple spacecraft observing and listening as we land on Mars, and so it's a it's quite the it's quite an event to orchestrate out in outer space. So it's it amazes me every time when I think about all the different spacecraft that all have to arrive at the same place at the same time.

Becky Carmichael
[10:51] Well, then I'm also imagining that a lot of collaboration with the different teams that are working on these differences, these different missions as well are these different instruments. So how do you have a ballpark of how many teams are coordinating at the same time for these different events?

Keith Comeaux
[11:14] So I'm trying to remember which satellites are going to be engaged with this. So Mars Odyssey was with this when we landed Curiosity, however, it's reaching the end of its lifetime. So not sure if it's going to be with this on this next adventure. But the Mars Reconnaissance Orbiter is another spacecraft that was also with us at Curiosity and will be with us again on the march 2020 mission. We also have the MAVEN spacecraft, which is a more recent addition to the Mars family. And we have also the Mars Express orbiter, which is a European spacecraft that I believe, I'm not sure if it's going to join us or not, but it's definitely there for communications after landing.

Becky Carmichael
[12:08] Oh, that's interesting.

So as the deputy chief engineer for the Mars 2020 mission, are you involved in some way with all of the other Mars rovers?

Keith Comeaux
[12:22] No and not directly, I, of course, worked on the Curiosity rover and Spirit and Opportunity now are deceased, sadly, Opportunity most recently, after the dust storm last year. So Curiosity is the only mission going on Mars today. And hopefully, she'll be going for a lot longer. And the Mars 2020 rover is largely based on the Curiosity design. So we're not we hope for a long future for this rover as well.

Becky Carmichael
[12:53] And so Curiosity, it was launched in November of 2011. It landed on August six, 2012. I was really excited to talk to you about your particular involvement with Curiosity. And then, how long did it take from, like, the idea to the actual successful landing to kind of give our listeners for you know how long it takes to even create and be and do something in this field?

Keith Comeaux
[13:24] Right. So I think from concept to landing, Curiosity took about 10 years, the initial concepts for curiosity changed over time, they evolved quite a bit. It was originally called the Mars smart lander. But as requirements changed, the nature of the mission changed, I joined the mission in 2006. So I was a part of it for about seven or eight years, including the early design periods, I worked on the entry, descent and landing team to basically help shape the design and test and analyze the design of this new sky crane system that we had. And also worked on the assembly test and launch operations team. So I was there when we were putting it together and testing it and launching it and then finally followed it into operations. after launch, I joined the cruise operations engineering team, and was flight director during landing and then Mission Manager for the surface operation. So it was quite the spectrum of experience and adventure on curiosity. And I hope to have a similar experience on Mars 2020.

Becky Carmichael
[14:43] Well, so I'm thinking when I hear 10 years, that is a long time. Is this the general timeline for most of the rovers that are in development are that have existed? Or are we speeding up in terms of the process of getting them ready to be launched?

Keith Comeaux
[15:02] So good question, the typical time I think, for developing a flagship Mars rover mission is on the order of 10 years. I'm just thinking back now. Yeah, maybe eight to 10 years, it took for both Curiosity and the Mars 2020 mission. And these are very large rovers. Some of our early rovers were smaller, still very ambitious, because we were doing things for the first time, but fewer instruments, smaller landed mass. And so we kind of cut our teeth, if you will, on those early missions and learn how to how to do things. And we've applied those lessons to all the subsequent rovers. So each time we get a little bit smarter, and we take, you know, the successes from the previous missions and apply them to the next one. And so that extra time that we use is really to advance the technology and the science to achieve more things with our follow on rovers.

Becky Carmichael
[16:09] Wow.

So that's one thing you touched on that surprised me was the actual size of these rovers. So with curiosity being the size of a small SUV. I actually went outside and I looked at my, my Subaru Outback. And I'm like, Is it about this size? Which is certainly not the size of you know, the Disney Wall-E character. Could you share with us some of the challenges in getting a rover that size to Mars? And how you're applying that knowledge now to this upcoming mission?

Keith Comeaux
[16:43] Yeah, interesting question. So yes, the size of our rovers has evolved over time, you know, the very first rover that we put on Mars was the sojourner rover on the Pathfinder mission. And it was largely an add on to what was really plan to be a lander. And it was about the size of the microwave oven. And as you may or may not recall, we used airbags to cushion the landing for that particular mission. And that approach was also used on the next two rovers Spirit and Opportunity. However, in that case, the lander was dispensed with and we just built the rover and that was the landed payload inside the airbag system. I'm trying to remember, I think those rovers each weighed about 150 kilograms. Spirit and Opportunity did, however, for curiosity, and now Mars 2020, curiosity weighed about 900 kilograms, about a ton in March 2020 is going to weigh even more. So the airbag system doesn't really scale up well, as you increase the size and the mass of your Rover, the airbag system actually gets heavier, faster, and is unable to really do the same job at such a large scale. So we had to come up with a new landing system and various different approaches were considered, including, you know, having a lander that the rover sits on top of and then wraps come down and the rover drives off. But again, with a very large rover that makes your system very top heavy. And you know, the possibility exists that it could just topple over instead of land safely. And so what the engineers did this was before my time, but what the engineers at JPL did was, basically flip things over and put the, the landing engines if you will, above the rover, and use the descent stage, instead of a landing stage to place the rover on its wheels directly on the surface of Mars, and then the landing stage would fly away leaving the rover on the surface directly without having to drive off of anything. So the wheels became the landing gear. And that proved to be a very efficient, it looks crazy, but it proves to be a very logical way to land such heavy payloads on Mars. So Mars is a very unique place to land. When you compare it to landing a space vehicle on earth or on Mars, on Earth, we've got a very thick atmosphere. And so we can use that atmosphere to use parachutes as well, you know, we can fly a parachute all the way to the ground or a glider, like the shuttle and land very softly, just simply using the atmosphere. On the moon, there is zero atmosphere. And so you could use thrusters all the way to the surface. Mars presents a particular challenge in that it's got just enough atmosphere to actually burn us up if we try to land like we land on the moon, but not enough atmosphere to actually slow us all the way down to the surface to land like we do on earth. And so we have to have, you know, multiple contraptions, if you will, to get us through the various flight phases of landing on Mars, including the capsule, like we do on Earth, the parachute like we do on Earth, but also we've got, you know, once we've finished with the parachute, we're still going, you know, 100 miles an hour or more. And so we've got to still slow down and we have to get dispense with the parachute and use thrusters to get the rest of the way down, or airbags as the case may be.

Becky Carmichael
[20:42] So how did how did you? How did someone figure out what that atmosphere was going to be? Like? I mean, that to me, would be a challenge to because here you are, you know, and obviously, you had previous information about the moon, which still baffles, it's like, wow, you know, this was still a great accomplishment, right? But so the atmosphere in Mars, how did how did you determine this?

Keith Comeaux
[21:09] How do we determine the atmosphere on Mars, we've, of course, you know, leveraged all the science that's taken place over the past decades, atmospheric scientists have long studied Mars, both from Earth based telescopes, as well, as you know, some of the early space missions that went to Mars, use radio techniques to discern what the Martian composition as well as thickness of the atmosphere was. So you know, we've been the beneficiaries of all the early work that has gone before us. And of course, the previous missions that have been down to the surface, I've actually directly sampled the Martian atmosphere. And so we have a very good understanding of what it's like. It is about 1% as thick as the Earth's atmosphere, and it's almost entirely carbon dioxide. So it's very thin. It's as if we're at 100,000 or 120,000 feet here on Earth. It's, it's very thin.

Becky Carmichael
[22:07] Wow. So I imagine there are many exciting and rewarding moments in the line of work, all of these challenges that you've been able to overcome. Would you tell us a little bit about the moment you realized that the Curiosity Mars rover landing was successful? What was your personal take there?

Keith Comeaux
[22:27] Yes. So the moment that I realized that we were successful on Mars, there's a, there's an interesting video that kind of captures the expression on my face is that moment, as I realized that moment, that was a very tense full day, and it, you know, it could have ended at any moment, there's so many things that can go wrong, even as if you were very close to the surface. And almost successful. Still, many things could go wrong, that would make it a bad day. So when I knew we were successful was when we heard on the audio. Some of the entry descent landing engineers were closely monitoring the telemetry and we got the, we got the word that we had touched down at a safe velocity. And one of the engineers on the net said Tango Delta nominal, which was a code word, we didn't want to tell the word the world yet that we had successfully landed because things could still go wrong. And so that, of course, got everybody's attention. But we were still waiting for that descent stage to fly away, because it could easily just drop down on top of the rover and crush on us. So we continued waiting. And the, we had a radio link that was active at the time. So as long as that radio linked, was was there, we knew that we had a rover safe on the surface of Mars. And so that was the moment you know, when we when we we let enough time expire, such that we knew that the descent stage had safely flown away, and the radio link was still there. That's when we called safe on Mars. And of course, my reaction says it all. And I guess the second moment, the second moment that we had was when those first pictures came down. And we saw that wheel of the rover firmly planted on the Martian surface, and Mount Sharp off in the distance with the sun shining behind us, it was a beautiful sight.

Becky Carmichael
[24:43] And a long awaited site, right, because of all of the time and effort prior to the launch. And I can only imagine how good that felt when you could see this. So I was just going to ask, you know, so here you have, you know, you've you've used gotten this, this landing. You're really in one of the coolest field sites I can imagine. So your field site is on another planet? We know, you know, and I know from previous conversations, not necessarily doing the data collection, but how are you collaborating with the scientists to ensure that data collection is possible with these with the rovers?

Keith Comeaux
[25:32] That is a very interesting question. Yes, the cooperation between the scientists engineers is, you know, very important and often very tense, because sometimes our, our objectives are a little bit different. The engineers are very concerned with constrained resources and the safety of the vehicle. And of course, the sciences, the scientists want to get the science and they want to get their data. And they want to do that they want to do their experiments. So we've got to balance the two. And so that creates a natural tension between the two groups. As engineers, we do everything we can, because we know the science is why we are going and, and even though we're not scientists, we're also very interested in the outcome of our missions. We're looking for evidence of past life on Mars. I mean, how cool is that? So we want to be we want our scientists to be successful. But we do have to live within the constraints. You know, it's basic physics, we can only do so many things in a day with the energy that we have. And we can only transmit so many bits back to Earth with the communication links that we have. So it's a matter of prioritizing all of those activities to get the most important things done.

Becky Carmichael
[26:51] So as an engineer, where do you draw your inspiration from for the designs of the rover's? is it from? I know, you've mentioned there's been several previous models. But do you ever draw any inspiration from nature, and trying to solve this, these challenges.

Keith Comeaux
[27:08] Um, I don't recall any specific examples where we've drawn inspiration from nature, I would be surprised if there weren't any. But we do. So for the sky crane design in particular, the name itself gives it away we are team was inspired by a helicopter known as the sky crane, which carries very heavy loads, in fact, is used for fire suppression here in California. So that was one of the inspirations for sky crane. I think, thinking to the future, you know, a lot of our engineers are now being inspired by origami. In their design of rovers, as you can imagine, it's launching payload into space is very expensive, and the heavier and larger they are, the more expensive it is. And so we have very talented robotics engineers, designing robots inspired by origami. So that's very exciting. And I look forward to seeing those actually fly.

Becky Carmichael
[28:19] I'm excited to see what those look like as well, that's I guess I, you know, as a scientist, I'm thinking about, you know, kind of that balance and how that manage, you know, managing that collection, but then also just the feet of of what is that design going to be so that you can get the most from this particular size? And then the idea of what, how something is, is created during those foldings, what additional things can be packed into a particular unit? That sounds very exciting.

Keith Comeaux
[28:56] Yeah, it is. And it also gives us the ability to deploy, you know, many tens, if not hundreds of individual devices to explore a larger area without the risk of losing any particular one.

So it it spreads the mission risk, but gives us the ability to accomplish so much, so much more.

Becky Carmichael
[29:21] Is curiosity still actively collecting data or samples? And then and I know, and I know that we'd also we've also spoken previously that, you know, your, your responsibility was getting it to Mars. But I was interested, is it, is it still actively sending back data. And then what happens once the mission is complete, is that just when the rover no longer is functioning?

Keith Comeaux
[29:52] Yes, Curiosity is still very active on the surface of Mars. In fact, it's just recently drilled some clay rocks, in a very interesting site in Gale crater. So I'm looking forward to seeing the results that they produce from that we're still you know, searching for organics, and, you know, possible, habitability of, you know, that particular location of Mars are, we typically operate our are both our rovers, as well as our orbiters until we run out of fuel, or, you know, they just reach their end of their life, you know, they're not designed to last forever. So something happened and evidently will break on them. And so, but we keep, as long as we've got something that's working on the surface of another of another planet, we continue to use it to its fullest capability, as we saw Opportunity operate for 15, almost 15 years.

Becky Carmichael
[30:55] Wow. So what has been the most exciting discovery for you as it relates to the Curiosity rover and your role as an engineer?

Keith Comeaux
[31:08] The most exciting discovery for me, I guess, was when the scientist put all of their data together and concluded that Mars was, in fact, once a habitable environment a few billion years ago. And so to me, that opens up so many possibilities, because if life originated at Mars, at the same time that it originated on Earth, it must imply that there must be life all over the universe. And so that's a very exciting thing. And so our next mission 2020, we're going to start looking for, you know, those bio signatures, the fossils of microorganisms that may have existed in Mars is past, we have the tools to be able to look for those on the 2020 mission, as well as bringing rocks back to Earth for additional study. So that's going to be really exciting the day that we actually discover a fossil on Mars, that's going to be incredible.

Becky Carmichael
[32:12] So that right there as a rock hound, I would be super stoked to see what rocks looks like from Mars. And I'm sure that that I'm just thinking about, you know, then the idea of finding a fossil in that yea, I would be, I would completely geek out like I do when I find something here.

Keith Comeaux
[32:36] Absolutely.

Becky Carmichael
[32:37] What do you hope the impact of your work is going to be?

Keith Comeaux
[32:42] So my role in the mission is is to, you know, help ensure success. So I hope we're successful, I guess that's the impact of my contribution. And there's another thing that I treasure as part of, you know, working on these flagship Mars missions. Clearly, kids get really excited about the work that we do. And, and yes, in fact, yesterday was bring your kids to work day. So as a privilege to be able to bring my kids for the first time to JPL, they just made the cut off. Age wise. So, you know, having the opportunity to inspire the next generation to become, you know, interested in science and engineering and math. You know, that to me, I treasure very much and I look for every opportunity to give people a chance to explore that interest.

Becky Carmichael
[33:43] So this, this is a question I've been really, really keen and asking, because you're working at NASA, you are a deputy chief engineer. You've you've got to have some perks, it sounds like bring your kid to work day was one of those perks. What's some of your favorite parts about your day to day work or your work overall?

Keith Comeaux
[34:08] Um, so you know, one of the perks that I had yesterday was being able to bring my kids up close to see some of the test hardware that we have in the test bed. So we've got our, our robotic arm for the Mars 2020 rover, you know, in test right now, as well as our sample caching system, the tools that we're going to use to collect rock samples and prepare them for return to Earth. So I was able to, to let my kids get pretty, pretty close, you know, not too close, but close enough that that was a really special moment.

Becky Carmichael
[34:48] I think that's going to be a good memory for all of you to have, and a very unique opportunity. You know, for your kids to see this, this, this part of STEM science, you know, history. That's exciting. So do you think do you think that we're going to be multi planetary within the next couple of decades?

Keith Comeaux
[35:12] Let's see, are we going to be multi planetary in the next couple of decades? Um, that is an interesting question, because it seems to always be a couple of decades off. And it I do think we'll get there. I don't know whether it'll be in the next 20 years or the next 200 years. But you know, I think, I think humans will ultimately be humans and, and explore and go to go to new places, such as the moon and such as Mars, and maybe even beyond. I think it's a matter of time, and I hope to see it. But we'll see.

Becky Carmichael
[35:52] So good. I've got the next few questions. Key, there are some that have been contributed by some students that learn that we were going to be talking. And so we've got some fun questions. So yeah, these are the things it's fun to have student contributions here. So until we get, you know, into all of the different planets, right, one of the questions that we had was, how much more efficient are people than rovers still, I mean, so rovers are, are, you know, have the clear advantage and being able to actually survive. But what have been some of the biggest challenges still, for creating rovers that can do similar tasks as humans?

Keith Comeaux
[36:37] Humans and rovers, I think, both have their advantages. Clearly, rovers can go places that humans can't, you know, you have to bring a life support system with you, wherever humans would explore, as well as all of the emergency preparedness and safety considerations, as well as just food and water. So that makes human exploration a very distant places very expensive. rovers can do that relatively cheaply. However, it takes an enormous amount of time sometimes to do something that a human can do in a few hours. on another planet, it takes rovers maybe several days. So it is, there is a trade off there. One day geologists and scientists will be able to go to the surface of Mars and do that exploration in situ. But until then, rovers seem to be our best bet. The other the other advantage, I think that rovers provide us is the ability to not contaminate the planet with you know, life that we might bring to Mars by virtue of sending humans there, so we can try to keep Mars as pristine as we can and discover what there might be there before humans start to explore it and maybe starts putting our own life there.

Becky Carmichael
[38:05] So another student question.

What are your favorite movies about space? What's the one that you like with the ones that you dislike? Did the did the Martian and Interstellar Get it? Right?

Keith Comeaux
[38:20] That is a great question.

I had... so there are literally dozens of movies that have inspired me over my lifetime, going all the way back to Marooned, Gregory Peck in Marooned I think it was, and see if I can think of some other Capricorn one, you know, one of the conspiracy theorists type of movies. But also, Top Gun, right stuff. Apollo 13. Of course, the Martian, those are all movies that have spoke to me. Did they get it right? There's always something they don't they don't get right. And many of us actually get annoyed by those little details that most people don't even notice. For example, the Martian you know, the opening scene of the Martian starts with this massive dust storm that nearly tipped over the rocket and blows blows equipment all over the place. The Martian atmosphere is so thin that it's unlikely that we would ever experience such a dust storm. So yeah, that's I mean, that's pretty fundamental right at the opening of the movie. So but you know, the remainder of the movie seemed pretty realistic. And I read the book, the book was fantastic that really got into the engineering details. And, you know, I haven't actually seen Interstellar yet, but I hear that the physics in that movie was very accurately done. They had consulted Kip Thorne, a physicist at Caltech, and got the physics, got the science right there.

Becky Carmichael
[40:07] I like when I find out that either shows or movies have consulted and consulted experts in the field, because then it feels to me. I mean, I know that movies and TV shows are all about that fantasy, right? But at the same time, you want to have some of that realistic components so that you feel like this is potentially could happen. Do you get to sample any of the astronaut ice cream?

Keith Comeaux
[40:32] Astronaut ice cream is actually sold in our gift shop at JPL. So yes, I've sampled it quite a few times, and my kids have as well.

Becky Carmichael
[40:43] So this, we also want to make sure that we're sharing with our students who are aspiring to the career path that you've had. So I've got a couple of questions about this. So working at NASA as the deputy chief engineer, the Mars Rover, Mars 2020 mission. This position is really a prestigious one. Was this a straightforward path? Or did you have some curves in your career?

Keith Comeaux
[41:16] Oh, my career is full of curves. Actually. As I mentioned earlier, I, you know, studied originally studied aerospace engineering, I wanted to be a pilot in the Air Force. That plan didn't work out. So I went to graduate school and studied hypersonic arrow thermodynamics, which is a mouthful, but basically, a study of how very fast airplanes get hot when they fly very fast. And so there were a number of a number of different vehicles that were in development at the time that I was in graduate school, but unfortunately, in the mid 90s, and many of them were canceled. So hyper sonics was not the hot field. It was when I started my graduates my graduate work. So when I was looking for a job, I, I found a company Hughes, space and communications, which built satellites for the military for other companies like DirecTV and XM Radio. And at the time, they were developing a new satellite using ion propulsion. And so that really grabbed my fancy. And in addition to that, there were a few former NASA payload specialists, folks who had been trained to fly on the shuttle who are working at Hughes. And so that also grabbed my fancy. And so the other thing that when I went on my interview through the satellite plant, there were literally dozens of satellites in various stages of production and in the facility. And having worked on a lot of paper studies in graduate school, it was very exciting to see actual space hardware up close. So completely took a left turn from my graduate work and hypersonic and went to go work on vehicles that don't experience any aerodynamics whatsoever. satellites orbiting the Earth that geosynchronous altitude. So that was very exciting. I spent 11 years there building various spacecraft, including the ones I mentioned, as well as I worked a little bit on global positioning system, as well as the weather satellites that you see on the news every night. And then in 2006, is when I got the call from, from JPL, they were looking for somebody to fill a position that that it opened up, that very closely matched the experience that I had at that point, both in terms of the aerodynamics, the hypersonic aerodynamics that I had studied, as well as, you know, building and flying real spacecraft for the last decade. Before that. So that came, you know, the synthesis of that experience came together for me when JPL was looking to hire somebody. And that put me on the entry descent landing team for the Curiosity mission. And so I guess the rest is history. Since then, I've I've worked seven or eight years on that mission, I've done also done an earth satellite mission called SMAP for JPL. I worked on some national security projects, and I also now I'm working on the next Mars rover.

Becky Carmichael
[44:38] Wow. It's interesting how, like, all of these different components from, you know, your career can come together in one very cool job. And I think that making sure that you have and you take, you take advantage of the opportunities that come your way, you never know how they're going to, they're going to map out but it sounds like each step you've really enjoyed.

Keith Comeaux
[45:03] Yeah, each was a different experience, my graduate work was very exciting, because I discovered something new. Working at Hughes is very exciting, because, you know, I, where again, worked on something new ion propulsion, and building a new satellite product line. And then, of course, landing Curiosity on Mars, again, something very new and challenging. So, and I guess I would say that, I've been lucky in some respect. But, you know, it's all about preparation and being ready to take advantage of the opportunities that come your way. And so I've been fortunate in that regard.

Becky Carmichael
[45:39] So along with taking opportunities that come your way, is, do you have advice for students who are dreaming of a career in aerospace?

Keith Comeaux
[45:49] Um, let's see advice for students pursuing a career in aerospace. Yeah, I actually have given a lot of advice to a number of students at LSU who have been pursuing aerospace engineering. And I think I think the main thing is that, you know, don't get discouraged if your first job is not your dream job. It wasn't necessarily the case that I just fell into a job that I had been dreaming of all my life. But when you're prepared, and those opportunities come your way, you can take advantage of them. And you might find yourself doing things that you've never dreamed of that are just as exciting and rewarding as what it is that you had originally thought you would do when you were in college. There weren't any Mars rovers to really look at and say, that's what I want to do. And I was in college that just didn't, it didn't exist. And so that was not even on my radar until I think 1997 when Pathfinder landed on Mars, and then I suddenly the world had Mars rovers, and that was something to do.

Becky Carmichael
[46:58] So if there's something that you could take, you're yourself, when you were younger, what would it be?

Keith Comeaux
[47:06] Um, so many things. I think, you know, the thing I would tell myself at a younger age would be to take advantage of opportunities to work among teams on projects, extra curricular things, like experiment balloon experiments that I know our Physics Department is doing. The various competition races that the engineering department competes with both. I think they both do airplanes, as well as race cars. You know, those are great opportunities to really put what you're learning in the classroom, put to work in the field. And working in the context of a team and experiencing problems as we always do, both the technical kind and the people kind because sometimes those are the harder ones. I you know, just get as much experience doing that sort of thing as you can when you're young. It'll pay off.

Becky Carmichael
[48:11] Definitely, I think that Yeah, anytime you can collaborate, work, you know, figure out what it is, what are the right dynamics when working with the team? I mean, life's the group project, we've got to figure out how to work together. You know, yeah, some of these, you know, the things that you've are sharing with us. This is not a one person capable of doing this. It's multiple people, multiple brains coming together, which is exciting.

Keith Comeaux
[48:37] That's right. It takes a village to accomplish it, these sorts of things.

Becky Carmichael
[48:42] I was just thinking, you know, you we've talked about Mars 2020, they'll that launch? Do we have other things that we are anticipating in the near future?

Keith Comeaux
[48:52] Yes, Mars, Mars projects in the near future include, you know, launching the Mars 2020 rover on July 17, of next year and its landing will be on February 18, of 2021. Beyond that, we are also beginning studies on what the sample return mission looks like. You know, the 2020 rover is going to collect rock samples and leave them behind for a future mission to collect and bring back to Earth. So some of those studies are starting now as we put together the design to figure out how to do that, it's going to take a while and maybe it may not be another 10 years until we actually get those samples back. But I guess that's the big adventure that we have on the horizon for Mars exploration.

Becky Carmichael
[49:49] So, in your area of work, you know, we've been discussing about all of the different challenges that you've had. And so it's, it's clear that you have to be very flexible and very creative. Can you share with us a moment or moments when you've had to improvise or MacGyver your way to achieve the goal?

Keith Comeaux
[50:10] It seems like we do that all the time during our missions. So I guess what most folks don't realize is that we have only one computer that is guiding the capsule and the landing for the curiosity and the Mars 2020 rover. And if that computer were to have a hiccup, it could be a very bad day. And there's many things that can go wrong, but of all things that would just be awful as if the computer itself had a hiccup during landing. So we do in fact, have two computers. But the original design of the system did not include the capability of using that second computer as a backup during EDL. And so simply because things happen so fast during entry, descent, and landing, I mean, you decelerate from 13,000 miles an hour to zero, and it's in the span of about seven minutes. So by definition, things are happening very fast. And it's very hard for another computer just to simply take over in the middle of that. So after we launched, a team, very dedicated team of software engineers, came up with what we called second chance, basically, it was a stripped down version of our software that we could be running on our backup computer, which we decided to turn on during EDL (Entry, Descent and Landing), and be ready to take over in a split second, and continue the landing down to the surface. So that was something that was conceived of and designed and implemented during the period from after launch of Curiosity to landing of Curiosity, which was just a few months, so it was a really huge effort. I played a small part in you know, helping execute the the the the operations procedures to implement second chance as we were flying toward Mars. And the good news is that we didn't have to rely on it. And the prime computer did its job all the way to the surface of Mars. And the interesting story is basically, after we land, that backup computer basically recognizes that it wasn't needed. And it basically it resets itself. And one of our engineers who had worked on that was very focused on that particular aspect of the landing. And so after we landed, but before the announcement was made, he saw that computer, reset it, and he started doing a little fist pump and cheer before everybody else did, because he had a little bit of inside information.

Becky Carmichael
[53:08] That's exciting. So it would be really problematic if you've got a computer that decides to, I don't know, do something crazy and update in the middle of this major millions of dollar kind of mission. So it has to feel good both to create something that can work if needed, but then to not have to use it at all.

Keith Comeaux
[53:29] That's right. And let's see another another very another interesting test that we did, before we shipped Curiosity to Florida, we simulated Entry, Descent and Landing right there in our clean room. Of course, the descent stage and rover and crew stage we're we're not moving, they were just sitting happily in the very comfortable clean room. But we simulated everything around it to to tell it, it was flying at Mars. And we ran simulations like that, to check everything out, make sure that we landed safely. In one particular test, we use these thermal batteries that are initiated by a pyrotechnic device. And they get very hot, and they're only meant to us to be used once. And we fire them and they get so hot they actually are are not compatible with the design of the rest of the vehicle because this is only meant to be used once. So we actually had to put them on a table and get the fire department there because they're lithium ion and those types of things are very dangerous. So it was a very white knuckle test that we ran actually three times. In our high bay before we shipped to to Florida for launch. But it proved that all of the systems work together. And, you know, it paved the way for being successful at Mars.

Becky Carmichael
[55:14] So you had to really think about all of these aspects. I realize there's a couple of questions, though, that I haven't yet asked you. One, can you tell our listeners about the size of the situation area and the clean room, how big with these facilities be

Keith Comeaux
[55:34] Um, the clean room is not quite as big as a basketball gym. And it's got, you know, super clean air with very few particulates floating in the air. Everybody that goes into it has to wear what we call bunny suits. They're dressed in white. So they cover their faces, they have gloves on their hands. So we don't let any of you know dirt or bugs escaped from our bodies and get on the rover to pollute Mars in the future. So yeah, that's where we put all of our flight hardware together. We also have other test areas, we have an in situ lab where we actually covered the floor with dirt and we pretend like we're on another planet and do experiments there with our test rovers. And we also have an outdoor Mars yard where again, we do a lot of testing that requires a lot of driving around and taking pictures and deploying the arm and drilling and that sort of thing. So we've got a variety of different test venues that we use to test our vehicle before we launch.

Becky Carmichael
[56:46] I'm very intrigued by the outdoors Mars yard and really want to see a picture of it. So the other question I forgot to ask was what's the location of where the Mars Curiosity rover was launched? And will this be the same location for the Mars 2020 rover? Can you even share that?

Keith Comeaux
[57:05] Yes, Curiosity was launched from an atlas five rocket at Cape Canaveral, the Kennedy Space Center in Florida and the Mars 2020 rover will be launched from the same place on the same rocket. Curiosity landed in Gale Crater near the equator on Mars and Mars 2020 will land and Jezero crater which is a different crater on the other side of Mars at a higher latitude. And the while Gale crater that Curiosity is exploring has a very large 15,000 foot peak in the center of the crater. The interesting thing about general crater is that there is a river delta what appears to be a river delta from looking at it from space right there at the flowing into the crater. So it looks to be a very exciting place to explore.

Becky Carmichael
[58:04] So for the final question, I can't let you go without a Go Tigers moment. Would you share with us what's one of your best memories you have while you were here at LSU? And I also should note for our listeners that Keith has his LSU windbreaker on today while we're doing this interview, which was which is just really special.

Keith Comeaux
[58:25] So what, among many fond memories, one of my fondest memories is, you know, for all the student groups that I was a part of, you know, every year you could count on multiple crawfish boils at one of our events. And so that was something that you know, I didn't recognize it. And now that I'm gone, it's obviously something that I'm missing very much. So I would say you know that that memory of having crawfish boils every spring with mechanical engineers and and everybody else that that did that as part of student life is something that I miss very much now.

Becky Carmichael
[59:06] I really want to thank you so much for sitting down with us today. I know I've asked you a heck of a lot of questions. You were really generous with your time. So really thank you for sharing a little bit about yourself your work, and what your experiences were like here at LSU. Is there anything else that you want to share before we wrap this up?

Keith Comeaux
[59:25] Well, thank you very much for having me. It's been a pleasure chatting with you. And I do look forward, I get back to LSU every semester. So I look forward to that every every time every chance I get to get back to you and visit my family and my professors. So, so just a reminder that we're launching our next Mars Rover, the 2020 rover, next July, and land in February of 2021. If any of your listeners kids out there, we're going to be conducting a competition and essay competition for naming that rover. Mars 2020. While rolls off the tongue, it's not the name that we're looking for right now. So we hope to get a lot of entries to help us name the rover.

Becky Carmichael
[1:00:21] Oh, so you're going to have competition for naming the rover?

Keith Comeaux
[1:00:26] Yes, we do. The last rover Curiosity was named by a fifth or sixth grader from Kansas, I believe it was. And she got an opportunity to actually sign her name on the rover itself. And so her name is on Mars.

Becky Carmichael
[1:00:44] That's exciting that kids will be able to name these rovers. And for this particular launch, is there something? Is this something we're going to be able to watch online.

Keith Comeaux
[1:00:56] I'm sure it'll definitely be on line somewhere. And I would be surprised if the NASA channel did not also carry it live. I can't speak for all the news agencies, of course, but it will be a big event and it'll definitely make the evening news. I'm sure.

Becky Carmichael
[1:01:15] Wow this has been great. This has been a fun interview. And you've got so many more things for us to look forward to in the future. Next time you're on campus. We'll have to connect and hear more about your exciting work you're doing at NASA.

Keith Comeaux
[1:01:30] Okay, great.

Becky Carmichael
[1:01:31] Thank you so much.

Keith Comeaux
[1:01:33] You're very welcome.

Becky Carmichael
[1:01:37] This episode of LSU Experimental was recorded and produced in the CXC Studio 151 here on the campus of Louisiana State University and is supported by LSU's Communication Across the Curriculum and the College of Science. Today's interview was produced by Kyle Sirovy, and our theme music is "Bramby at Full Gallop" by PC three. To learn more about today's episode, subscribe to the podcast ask questions and recommend future investigators visit CxC.lsu.edu/Experimental.