About CxC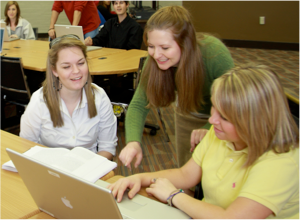 As the first program of its kind in the nation, LSU CxC is a multimodal, multifaceted program that works to improve the writing, speaking, visual and technological communication skills of undergraduates. Launched in 2005, LSU CxC equally emphasizes instruction in all four modes of communication while respecting the variations in style and genres within the disciplines.
The unique LSU CxC model provides a holistic approach to undergraduate student learning by integrating certified courses within the disciplines, faculty development and training initiatives, student support and extracurricular workshops, and student recognition across the curriculum.
LSU CxC was named the 2010 Program of Excellence by the Conference on College Composition and Communication. The award committee noted the innovative work of LSU in developing the comprehensive CxC program and declared that the university has "set the bar of innovation for learning and teaching."
CxC is a dynamic program jointly funded by the university, the colleges it serves, regional and national grants and private gifts.
An Introduction to CxC (video)