Recent Events
"Édouard Glissant, Radiance and Obscurity"
(Colloquium Organized by Louisiana State University and the Université des Antilles, March 20-23, 2018)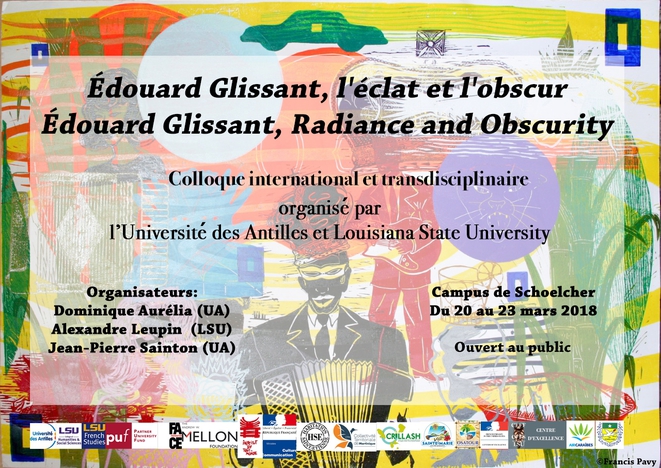 ---
Watch Alexandre Leupin's seminar "Lire Édouard Glissant. Introduction à l'interprétation des essais "
L'Être et l'Étant, l'Un, les Universaux
Archives (2017)
For more information see Recent Events
2017
Cristina Álvarez:
Lecture: "Ni iranienne ni française : l'universel, selon Chahdortt Djavann"
Pulsions d'écriture:
Participants from l'atelier du libre-écrire directed by Fabienne Kanor perform their final texts.
READ THE TEXTS AND SEE THE PHOTOS
Ollivier Dyens:
Lecture: "A New Future for Higher Education: Nursing and Farming an Ecosystem of Intelligent Machines"
Announcements
La Région Normandie and the International Institute of Human Rights & Peace have launched an academic competition centered on the ideals of international peace and liberty, rooted in remembrance of the Allied landings of World War II : the Freedom Prize (le Prix Liberté).
---
The Cultural Services of the French Embassy has launched the fourth edition of the France on Campus Award to celebrate and support initiatives that explore France in new and creative ways.
Join Our Mailing List
Follow us on Facebook