Our Vision for the LSU College of Humanities & Social Sciences
We dream big, and big dreams are not achieved alone.
The best liberal arts programs are equipped with philanthropic funding to attract and invest in the next generation of outstanding faculty, and to deliver cutting-edge research and teaching that impacts communities worldwide.
We challenge our alumni and friends to give $105 million over the next eight years, investing $80 million in endowed direct student support and $25 million in faculty endowments to grow our college endowment from $25 million to $130 million. Together, we will catalyze our path to becoming a premier, nationally competitive liberal arts program.
Philanthropic support in five core areas will secure our place in the upper echelon of liberal arts programs: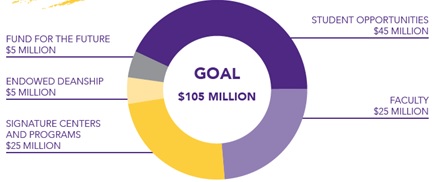 The college's five fundraising priorities are $45 million for student opportunities, $25 million for faculty, $25 million for signature centers and programs, $5 million for an endowed deanship, and $5 million for a fund for the future.
Learn more about how, together, we will change lives by investing in:
student opportunities
faculty
signature centers and programs
an endowed deanship
a fund for the future