2022
August 22, 2022
The Center for Energy Studies seeks applicants at the Assistant Professor-Research or Associate Professor-Research rank. We seek motivated individuals with strong oral and written communication and applied research skills in such areas as, but not limited to, electric power industry analysis, electric power systems modeling, conventional/unconventional oil and gas development, industrial energy usage, energy infrastructure, energy finance, energy law and regulation, renewable energy, energy efficiency, public policy and regulation of energy, energy in transportation, carbon capture and sequestration, hydrogen and/or other energy and environmental systems modeling.
See job opportunity announcement.
June 30, 2022
Dismukes on On Par with the President
CES Executive Director and Professor David Dismukes appears on the June 30 episode of On Par with the President, a podcast hosted by Louisiana State University President William F. Tate IV. In this segment, Dismukes discusses gasoline prices, energy, the global impact of Louisiana's energy industry, and more.
The On Par podcast features LSU students, faculty, or staff who are at the very top of their game about their journey to success, setting and fulfilling goals, creating a legacy, and a variety of other topics.
June 21, 2022
Workshop Addresses La. Energy Climate Solutions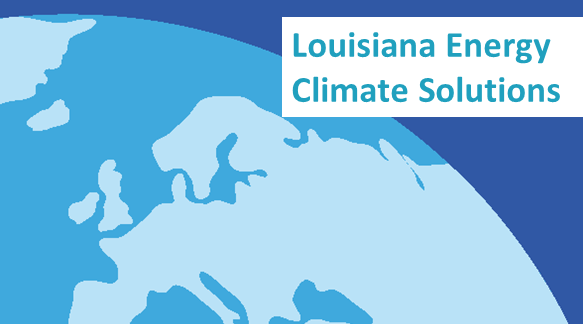 On June 21, the Center for Energy Studies, Louisiana Mid-Continent Oil and Gas Association (LMOGA), and the Consumer Energy Alliance hosted the Louisiana Energy Climate Solutions Workshop. The event featured a series of panel discussions and presentations addressing Louisiana energy, anchored to pillars of the Louisiana climate plan—carbon capture, utilization, and storage (CCUS), hydrogen, solar, and offshore wind—with an emphasis on infrastructure, investment, and incentives to promote economic growth in energy transition.
The event began with a presentation by Mike Sumrow of GHD Energy Services on CCUS principles, in which he stressed that CCUS is critical to the energy transition and that it will be necessary to meet the goals of the U.N. Climate Change Conference in Glasgow (COP26). He notes that offshore CCUS is not new and that the Gulf of Mexico has a great deal of capacity for CO2 sequestration. Blue hydrogen can support immediate decarbonization but only when
enabled by CCUS, and that "given current costs…, renewables can more effectively be used to displace power from fossil fuels."
Legal challenges to decarbonization efforts were discussed by Bryant Bremer, Partner, Kean Miller. He noted that common arguments against CCS include its expense, risks for safe storage, whether it would be effective against climate change at this late stage, and doubts regarding CCS advancing the elimination of fossil fuel usage.
The event also included a panel discussion on hydrogen, considered a leading clean energy source due to its ability to be produced with low- to no-carbon emissions, emit zero CO2 emissions at consumption, provide long-term storage of renewable energy, and serve as an energy transport medium. Panelists were Russell Richardson, Sr. Vice President, Business Development, Baton Rouge Area Chamber, Jonathan Flynn, CF Industries, and Mike Sumrow, GHD.
A featured presenter was Dr. Emily Grubert, Deputy Assistant Secretary for the Office of Carbon Management, U.S. Department of Energy, who discussed DOE's current goals: 50 percent emissions reduction by 2030; CO2 emissions-free power sector by 2035; and net zero emissions economy by no later than 2050. In its effort to minimize environmental and climate impacts of fossil fuels from extraction to use, DOE has identified seven priority technology areas: point source carbon capture; CO2 removal; CO2 conversion into products; reliable CO2 storage; hydrogen production; critical mineral production from industrial and mining waste; and methane mitigation.
Walt Musial, Principal Engineer, NREL, and Representative Joe Orgeron, Louisiana House of Representatives, discussed offshore wind opportunities in the Gulf of Mexico. Musial noted the advantages of and challenges to development. Advantages include the shallow U.S. waters, which allow for lower substructure costs, the proximity to oil and gas infrastructure, and the warmer waters and lower sea states that can serve to decrease operating costs and allow for easier turbine access. Challenges include hurricane risks, low average wind speeds, and soft soil, which limits substructure options and can increase costs. Orgeron discussed a bill filed during the 2022 legislative session that allows offshore wind leasing in state waters, or up to three miles off the shore. The bill extends limits on oil and gas leases to up to 25,000 acres to provide room for large wind turbines and allow the state space for pilot projects in state waters. In June, the governor signed the bill, which also gives the state a share of profits generated by wind farms.
The final session of the day addressed developments in solar energy. The panel featured Justin St. Marie, Senior Manager, Origination, Invenergy, and Chelsea Howard, Executive Director, Renewable Origination, NextEra, and was moderated by Randy Young, Partner, Kean Miller. Topics included how increased gas, power, and renewable energy credit prices are expected to support customer demand for renewables, even with higher near-term input costs; solar companies' goals for Real Zero carbon emissions; Florida Power and Light's efforts in decarbonization; and commercial structures in corporate renewable procurement.
Presentation materials are available upon request. Email ces@lsu.edu.
April 20, 2022
New Report Provides Policy Makers Guidance on Plugging and Abandoning Offshore Wells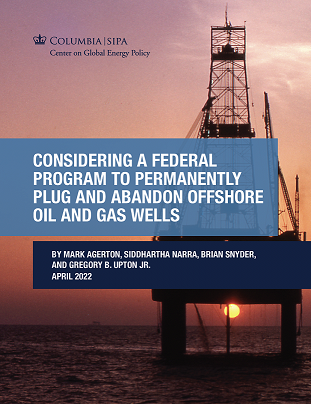 Center for Energy Studies faculty have collaborated on a new paper that examines offshore well plugging and abandoning (P&A) liabilities and provides guidance to federal policy makers during the formulation of P&A programs. Part of an oil and gas research initiative at Columbia University's Center on Global Energy Policy, the study identifies at least three objectives of potential P&A programs: reducing future financial P&A liability for tax payers, lowering environmental risk, and preserving or increasing employment while reducing greenhouse gas emissions.
Findings include:
As of the end of 2020, approximately 22,000 offshore oil and gas wells in the United States were not permanently P&Aed. The cost to P&A all of these wells is estimated at approximately $47 billion.
Studies show that, because leaks from wells in shallow water and closer to shore pose greater environmental risks than those from wells farther offshore, and because P&Aing deeper-water wells more expensive, the cost/benefit ratio of P&Aing wells nearer to shore is more favorable than that for offshore wells.
P&A costs associated with certain inactive wells in shallow waters that are not likely to resume production is estimated at $8.3 billion.
Over a 10-year period, approximately 10,500 jobs per year could be created through a P&A program for shallow-water wells.
Oil and gas production is not expected to be impacted because the wells that would likely be P&Aed no longer produce significant quantities of hydrocarbons.
Authors are
Mark Agerton, assistant professor, University of California-Davis Department of Agricultural and Resource Economics and nonresident scholar, Center for Energy Studies, Rice University's Baker Institute for Public Policy;
Siddhartha Narra, research associate, LSU Center for Energy Studies;
Brian Snyder, associate professor, LSU Department of Environmental Sciences; and
Gregory B. Upton, Jr., (corresponding author), associate professor, LSU Center for Energy Studies.
Posted March 29, 2022
Upton, Nehiba Provide Comment on EPA's Proposed RFS Small Refinery Exemption Decision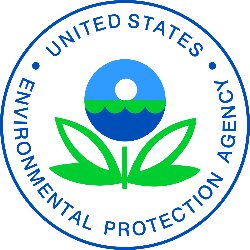 In December 2021, the U.S. Environmental Protection Agency (EPA) proposed to deny more than 60 pending small refinery exemption (SRE) petitions from small refineries that were requesting an exemption from the Renewable Fuel Standard (RFS) program. The RFS is a federal program that requires transportation fuel sold in the United States to contain a minimum amount of renewable fuels, such as ethanol, blended into the fuel purchased by consumers.
Center for Energy Studies Associate Professor-Research Greg Upton and Assistant Professor-Research Cody Nehiba provided an opinion on two specific claims made by the EPA in its proposal. Their expert opinion was submitted to the EPA in Docket No. EPA-HQ-OAR-2021-0566.
Perkins Coie LLP, 20 small refineries with diverse geographic dispersion, and three anonymous academic reviewers were given the opportunity to review and provide feedback on this report. The analysis and opinions expressed, however, are those of the authors alone.
Posted January 10, 2022
Decarbonization Topic of ASSA Session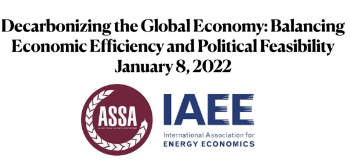 At this year's meeting of the Allied Social Sciences Association (ASSA), Center for Energy Studies Associate Professor Greg Upton, and University of California-Davis Professor Mark Agerton organized, and served as moderators for, a panel discussion titled, "Decarbonizing the Global Economy: Balancing Economic Efficiency and Political Feasibility." The panel, hosted by the International Association for Energy Economics (IAEE), was held virtually on Saturday, January 8. Panelists included Robert N. Stavins, Harvard University; Barry Rabe, University of Michigan; Adam Sieminski, King Abdullah Petroleum Studies & Research Center (KAPSARC); and Garret Graves, United States House of Representatives.

Panelists discussed decarbonization policies in terms of both economic efficiency and political feasibility. Panelists also brought a variety of perspectives, including economics, political science, industry, and government.
The discussion was recorded and is available on the CES YouTube channel.